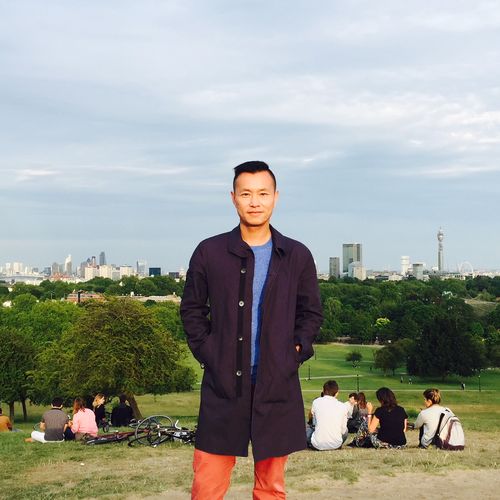 Dr. Enze HAN 韓恩澤
Dr. Enze HAN is Associate Professor at the Department of Politics and Public Administration. His research interests include ethnic politics in China, China's relations with Southeast Asia, especially with Myanmar (Burma) and Thailand, and the politics of state formation in the borderland area between China, Myanmar and Thailand. Dr. Han received a Ph.D in Political Science from the George Washington University in the United States in 2010. Afterwards he was a postdoctoral research fellow in the China and the World Program at Princeton University. During 2015-2016, he was a Friends Founders' Circle Member of the School of Social Science at the Institute for Advanced Study in Princeton, USA. In 2017, he was a fellow at the East Asia Institute in Seoul, South Korea. His research has been supported by the Leverhulme Research Fellowship, and British Council/Newton Fund. Prior to Hong Kong, Dr. HAN was Senior Lecturer in the International Security of East Asia at SOAS, University of London, United Kingdom.
Selected publications
Enze Han, "Under the Shadow of Sino-US Great Power Competition: Myanmar and Thailand's Alignment Choices," forthcoming at Chinese Journal of International Politics.
Enze Han, "Bifurcated Homeland and Diaspora Politics in China and Taiwan towards the Overseas Chinese in Southeast Asia," forthcoming at Journal of Ethnic and Migration Studies.
Enze Han and Christopher Paik, "Ethnic Integration and Development in China," World Development93 (2017): 31-42.
Enze Han, "Geopolitics, Ethnic Conflicts along the Border, and Chinese Foreign Policy Changes toward Myanmar," Asian Security13, no. 1 (2017): 59-73.
Enze Han, Contestation and Adaptation: The Politics of National Identity in China(New York & London: Oxford University Press, hardcover 2013 & paperback 2016).
Enze Han, "Borderland Ethnic Politics and Changing Sino-Myanmar Relations," In Mandy Sadan ed., War and Peace in the Borderlands of Myanmar: The Kachin Ceasefire, 1994-2011 (Copenhagen: NIAS Press, 2016).
Mattias Stepan, Enze Han, and Tim Reeskens, "Building the New Socialist Countryside: Tracking Public Policy and Public Opinion Changes in China," The China Quarterly, no. 226 (2016): 456-476.
Enze Han and Lawrence Saez, "China as "Offshore Balancer" and South Asia's Regional Security Complex," in Lowell Dittmer and Maochun Yu eds., Routledge Handbook of Chinese Security(London and New York: Routledge, 2015).
Enze Han and Harris Mylonas, "Interstate Relations, Perceptions, and Power Balance: Explaining China's Policies toward Ethnic Groups, 1949-1965," Security Studies23, no. 1 (2014): 148-81.
Enze Han, Joseph O'Mahoney, and Christopher Paik, "Keeping Up With the Joneses: The Role of Constructed Economic Interests in Ethnic Group Mobilization," Conflict Management & Peace Science31, no. 1 (2014): 49-69.
Enze Han and Christopher Paik, "Dynamics of Political Resistance in Tibet: Religious Repression and Controversies of Demographic Change," The China Quarterly, vol. 217 (2014): 69-98.
Enze Han and Joseph O'Mahoney, "British Colonialism and the Criminalization of Homosexuality," Cambridge Review of International Affairs, 27, no. 2 (2014): 268-88.
Enze Han, "Transnational Ties, HIV/AIDS Prevention and State-Minority Relations in Sipsongpanna, Southwest China," Journal of Contemporary China22, no. 82 (2013): 594-611.
Enze Han, "External Cultural Ties and the Politics of Language in China," Ethnopolitics12, no. 1 (2013): 30-49.
Enze Han, "From Domestic to International: The Politics of Ethnic Identity in Xinjiang and Inner Mongolia," Nationalities Papers39, no. 6 (2011): 941-962.
Enze Han, "The Dog That Hasn't Barked: Assimilation and Resistance in Inner Mongolia, China," Asian Ethnicity12, no. 1 (2011): 55-75.
Enze Han, "Boundaries, Discrimination, and Inter-Ethnic Conflict in Xinjiang, China," International Journal of Conflict and Violence4, no. 2 (2010): 172-184.
Enze Han, "Modernization, Economic Development and Inter-Ethnic Relations in Contemporary China," in Suijian Guo and Baogang Guo eds., Challenges Facing Chinese Political Development (Lexington Books, 2007).