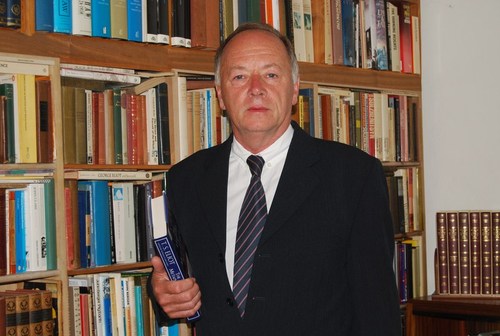 Dr. George LAMBIE
Visiting Professor: Dr Lambie worked in industry and business in the UK, obtaining diplomas and professional qualifications in those fields, before he decided to pursue an academic career. He initiated the latter with a BA (Hons) in Comparative American Studies from the University of Warwick followed by an MA in Latin American Studies from the University of Liverpool, and a PhD in History from the University of Warwick.
His principal area of academic expertise is International Political Economy (IPE). In this field he teaches: the Bretton Woods era and the background to globalization, the main elements of the globalisation process (TNCs; international finance; transnational agencies and formations etc.). He uses this context to address such topics as: the contestation between the Western 'unipolar' vision of globalization and the Eastern 'multipolar' alternative; contemporary democracy and culture; the political economy of developing countries; the European debt problem and the global financial crisis. He has a regional expertise in Latin America and has researched and taught in such areas as history, politics, economics and literature. He is an internationally recognized specialist on Cuba since its 1959 revolution.
He has worked principally at the University of Warwick, De Montfort University (DMU) in Leicester, and taught at other UK universities and abroad. Besides teaching, he has designed courses and degree programmes including an undergraduate degree entitled 'International Business and Globalisation' and a Masters degree 'Globalisation Studies: Politics, Business and Society'.
In addition to his academic work he has managed international co-operation initiatives and was Projects Director (1995-2010) of the 'International Public Administration Unit', within the Department of Public Policy (DMU), where he negotiated, directed and taught on a number of international consultancy projects, especially in countries undergoing reform or transition. Most notably he was co-director, with Cuba's Minister of Finance, of the first European Commission co-operation project with the island (1995-2001). Subsequently he was granted a rare (for non Cubans) 'Emeritus Professorship' at the University of Havana. These experiences have informed his teaching and research.
In 2009 he was chosen for the Vice Chancellor's Distinguished Teaching Award (DMU) and in 2012 he was one of three teaching staff across the university to be nominated as a candidate for a UK National Teaching Fellowship.
Besides teaching and project management, he is an active researcher and has received research grants, including three British Academy Awards, and has published over 30 refereed articles and three books; most recently, The Cuban Revolution in the 21st Century (2010). His forthcoming publications include two books entitled: Globalisation, Democracy, and Crisis, and (with Stefan Robel, School of International Studies, TU Dresden) In Our Time. Understanding Globalisation and its Consequences through International Political Economy and Critical Theory, which is an edited volume aimed at supporting the teaching of IPE by bringing theory and practice together. He is also working on several articles including an analysis of the Eastern 'multipolar' challenge to Western 'unipolarity'.
He has presented more than 70 conference papers in the UK and around the world, including at the universities of Oxford and Cambridge and the Center for Strategic and International Studies in Washington. In the UK's national Research Assessment Exercise of 2000 and the submission he prepared for the 2013 round, much of his work was judged to be in the category, 'world leading in terms of originality, significance and rigour'. He was Editor of the International Journal of Cuban Studies between 2008 - 2014.
In June 2013 Dr Lambie left DMU to work independently as a lecturer and researcher, specialising in International Political Economy and especially contemporary changes in the global financial and political system. Since then he has lectured, delivered courses and participated in research at a number of universities in Europe, including the University of Coimbra in Portugal and the Technical University of Dresden, School of International Studies in Germany. Since 2014 he has taught during the autumn semester at HKU for the Department of Politics and Public Administration: 'Global Political Economy', 'Latin America: History, Politics, Economy, and Contemporary Developments', 'Modernity and Globalisation'. He has also supervised 'Capstone' projects.