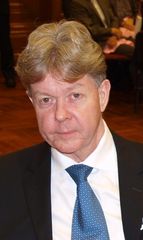 Professor John P. BURNS 卜約翰
Emeritus Professor and Honorary Professor of the University of Hong Kong where he was the former Chair Professor of Politics and Public Administration (1996-2017) and former Dean of Faculty of Social Sciences (2011-2017). He obtained undergraduate degrees from St. Olaf College and Oxford University, and a Ph.D. in political science from Columbia University. He specializes in the politics and public administration of China including Hong Kong. He is the author or editor of eight books and his academic articles have appeared in scholarly journals such as China Quarterly (UK), Journal of Contemporary China (USA), Pacific Affairs (Canada), and Public Administration and Development (CAPAM). See https://www.ppaweb.hku.hk/f/burns .
His opeds have appeared in the Hong Kong Free Press where he has his own page (https://www.hongkongfp.com/author/johnburns/ ). He has appeared frequently on Bloomberg TV, Sky News (UK), and has been quoted in the New York Times, Washington Post, LA Times, the Guardian, CNN, and local media in Hong Kong. He has spoken recently at the University of Melbourne and MFU in Thailand on Hong Kong's ongoing protests.