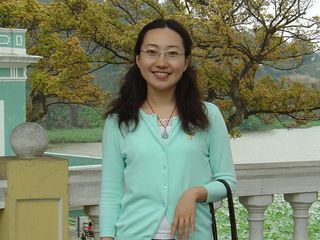 Dr. WANG Xiaoqi 王曉琦
Fractional Lecturer: She obtained her Bachelor degree in political science and economics (double major) and Master degree in public administration from Peking University. She received her Ph.D. degree from the University of Hong Kong in 2006. Dr. Wang's research interests have evolved around Chinese politics, public governance and management, institutional analysis, coordination and collaboration, comparative public policy, and state-society relations. She teaches courses on Chinese Politics and political analysis. She has participated in and contributed to several research projects in the capacity of principal investigator or core group member. The themes of these research projects include Chinese Civil Service System, policy coordination in Chinese cities, and the food safety management regime in contemporary China, and etc.
Selected Publications
China's Civil Service Reform, London and New York: Routledge, 2012. xiv+192pp. http://www.routledge.com/books/details/9780415577489/
"Civil Service Reform in China: Impacts on Civil Servants' Behavior" with John P. Burns. The China Quarterly 201, (March 2010), 58-78.
"The Cognitive Foundation of a Co-production Approach to Performance Measurement: How do Officials and Citizens Understand Government Performance in China?" with Wai Fung Lam. Public Administration and Development 34, (February 2014), 32-47.
"The Political Economy of Food Safety Regulation in China: the Case of the Distribution of Adulterated Milk Powder on the Mainland and Taiwan in 2008," with John P. Burns and Li Jing. accepted by the book entitled Regulation of Food in the Age of Crises: Transformations and Challenges of Food Governance, the ECPR Press (forthcoming).
Policy Coordination in Three Chinese Cities: Beijing, Hong Kong and Taipei, with John P. Burns, B. Guy Peters, and Wai-Fung Lam. London and New York: Routledge (book under contract, forthcoming).
Selected Working Papers
"The Path Dependency of Reforming A Regulatory Policy in China—Case of Food Safety" (under review).
"The Perceived Impact of New Public Management Reform and Organizational Commitment of Nonprofit Employees: A Case Study of Social Service NPOs in Hong Kong" with Wai-Fung Lam, Eliza Lee and James Perry (under review).
"Institutional Choice and Co-production of Public Service: A Comparative Study of Source-separated Collection of Household Waste in Beijing and Shanghai." (working paper )
"Public Service Motivation and Civil Servants' Behavior in China" with Wai-Fung Lam and James L. Perry (working paper).